OMG. I AM HAVING A BABY
You would think that by now this wouldn't be something I would stumble upon....like finding your husband having an affair, or that you have a long lost sibling. But nope, that's the way I do things....jump in with both feet and then be scared shitless when I realize what's going on. Last night I had my 30 week appointment with my midwife, who made it abundantly clear that very soon I would have a screaming, pooping, hungry bundle of joy in my arms. SHE ASKED ME IF WE HAD A CARSEAT READY!!!! Uh, ya, nope.

You see, I've been measuring 4 weeks ahead of my due date almost my entire pregnancy, and so while I may think I'm only 30 weeks, someone else thinks he's 33 weeks 5 days. And he turned head down to get himself all ready to come on out and meet the world. And while I can't wait to meet the little guy and cover his itty bitty feet with kisses, I'm like, really, really FREAKING OUT. Do we have a carseat? Crib set up? Room to put him in? Well, technically yes to that last question, but the room still happens to be my craft room, with yarn scattered all over. And it's the clean laundry pile room. And the walls are still painted pink & purple (don't ask).

So I'm taking a very deep breath and today I'm facing this head on. The hubby and I will be spending our lunch hour at Toys R Us doing a mad dash throwing things in the cart. Oh crap. Diapers....must remember diapers. (Did I mention I've been having contractions on and off?)

I'm guessing you all are dying to see me in my huge glory....so while they might be taken in a public restroom by yours truly they're the best I could do. Don't harass a pregnant woman.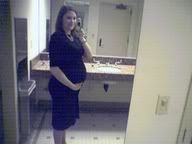 And so you can see my cute shoes...heh




I'm working on the cutest knitting thing ever, and when I finish I'll post pictures of it for you. It's a surprise. I'll tell you it's a baby Dale of Norway, lavender, and ADORABLE. And for a friends baby girl. Mr. Tyrone has lots of cute knitted things right now....but they aren't purple.

And I'm overwhelmed with the enormity of all the planned projects for the little guy, and yarn bought, and it looks at me everytime I go into the craft room (maybe that's why it hasn't been converted into baby room...I would have to face the yarn demons) There was a bit there where I bought Baby Ull like it was discontinued. Let's just say I had to buy 2 new plastic drawer thingies to hold it all. And they're hiding in the closet from a certain someone.

While right now that certain "someone" just might be the hubby, in the near future I just might have to hide it from someone else. Take a look at this....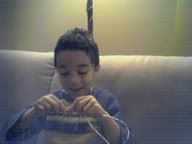 Do you see that look of excitement & sheer happiness on his little face? I've trained him well.